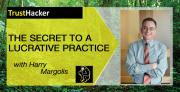 Academy of Special Needs Planners co-founder Harry S. Margolis had the honor of being one of the first guests on a new podcast created by North Carolina elder law and special needs law attorney Bob Mason. "The TrustHacker Podcast," which debuted in early March, is part of Mason's TrustChimp site.
"Trust hacking is the term I use to describe any short-cut skill or insight that will help you crush it in your practice," Mason explains. "In other words, a trust hack is anything that solves a trust or tax or other practice problem in an inspirational or ingenious way."
In a wide-ranging 42-minute conversation, Mason asks Margolis how he became one of elder law's pioneers in 1987, the one thing he would do differently given the chance, his worst experience as a lawyer (hint: it's related to the Oscar-winning film "Spotlight"), the one book or treatise he couldn't do without, and what he sees as the biggest challenge facing elder law attorneys.
Mason and Margolis also discuss two recent and highly controversial Massachusetts trial court decisions (Nadeau and Daley) ruling that trust principal is countable by MassHealth (Medicaid). In both cases, the court incorporated an "availability" doctrine that Margolis says is not found in federal law.
You can listen to the podcast here and learn more about Mason's TrustChimp site, of which the podcast is a part, here.